Yeholot Association
Founded by Rashi Foundation
Data from standardized international tests show that the Israeli education system suffers from wide gaps in performance that reflect social and economic inequalities. This undermines social solidarity and causes young people to cease believing in themselves.
At the very heart of the Yeholot Association's accelerated learning program is the belief that, except for a tiny percent of children, every student is able to succeed in school and attain impressive results. Even learning gaps that have existed for years can be narrowed and eliminated! The reduction of gaps and the elimination of the correspondence between scholastic performance and economic background are of supreme importance in a pluralistic society like Israel's. Yeholot opereates in underserved communities, promoting social justice and educational equality by helping Israel's weakest students overcome stigma and failure, and motivating them to aspire to a better future. We work in conjunction with the Ministry of Education, municipal authorities, school networks and philanthropic partners around the world.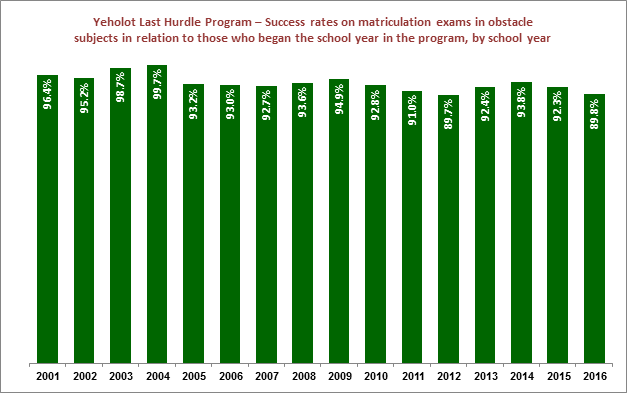 For more details about Yeholot Last Hurdle Program
For more results of Yeholot Last Hurdle Program