A study in excellence
Shula Kopf
November 2, 2015
An intensive study regime has catapulted a remote Druze village school to the top
of matriculation results in Israel
---

  Beit Jann is the Leading High School in Israel:  All Students Completed their Matriculation
October 21, 2014
An Article from Israel's leading economic newspaper on the remarkable achivement of the Beit Jann High School,
Thanks to the Efforts of the Yeholot Association, the Ministry of Education and Other Partnerss
---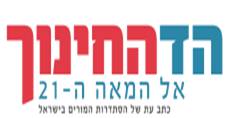 -  "Everyone is able! "Not a slogan, but a fact." 
Yoram Harpaz,
December 2013
Nissim Cohen – founder and director of the Yeholot Association, gives real validity to the slogan  "Everyone is able!" 
---

- "What is the secret of 
your Bagrut ( Baccalaureat) entitlement percentages?"
Hassan Shaalan,
September 30, 2013
Members of the Knesset Education Committee , visited the high school 

ranked 3rd place in entitlement for Bagrut graduates.

- "Perfect: The Best High School in Israel 2013" (Translation)
Lior Dattel
September 8, 2013
An impressive increase in number of students entitled for matriculation certificate in the Druz Sector and especially in the locality of Beit Jahn
---

- "Learning How to Win" (Translation)
Goel Beno
September 3, 2013
The locality of Beit Jahn, which opetates "Start" and "Last Hurdle" programs of Yeholot Association, was ranked third place in Israel in number of eligible for matriculation. 85% of the graduates are entitle for matriculation certificate
---

- "

100

most Influential People" (Translation)
Lior Dattel
September 3, 2013
Mr. Nisim Cohen, CEO of Yeholot Association, has been chosen by the Marker Magazine as one of the 100 most Influential People of Israel for 2013
---
 - "Tafnit program closes the gap in Israeli schools"    
Jessica Snapper    
October 12, 2007
Israeli schools are respected for their high academic standards, and a great deal is expected from students. But with overcrowded classrooms and budgets spread thin, part of the Israeli students body simply can't keep up. From week academic skills to economic hardship at home, these pupils are in need of extra support. This is where Tafnit program comes in,  helping nearly 10% of the current student population in Israel.
---

 - "Everyone can do it"
Editorial
September 6, 2007
The first week of the school year is an exciting time for millions of families, a time of renewal and promise. It is also a time of shallow recriminations, generally blaming the lack of budgets for the dismal overall performance of our school system, oversize classes and short school day.
---

Haviv Rettig
September 4, 2007
Unless your child is a participant, you've probably never heard of the Tafnit, or "turnaround," Program. And that's a shame. For 20,000 schoolchildren in some 200 schools just this year - a tenfold increase in participation from its beginning only six years ago - it has literally changed lives.
---
 - "This is how Be'er Sheva fought for 100 dropouts" [Translation]
Mijal Grinberg
August 22, 2007
"From 7th to 9th grade, I hardly ever entered the classroom. My mother would drop me off at the entrance, I would wait for her to leave and then turn around and go to have a smoke or return home," says Tom Mehraban, an 18-year-old from Be'er Sheva. "I had 13 failing grades at the end of the year and a 100 in sport." Mehraban is one of 100 students in the city who were on the verge of dropping out of the education system at the end of 9th grade. Fortunately, the person responsible for the education portfolio in the city, Rubik Danilovich, decided not to give up. (His own personal past included eight failing grades that prevented him from matriculating.) Two schools in the city joined with other organizations to start a unique project for these students: Start Success.